TwistDx wins "Best New Life Sciences Product of the Year" award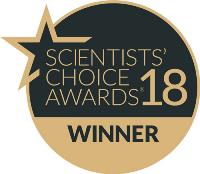 23 April 2018
Scientists' Choice Award recognises the product that has made the most difference to Life Sciences research as nominated by scientistsScientists' Choice Award recognises the product that has made the most difference to Life Sciences research as nominated by scientistsScientists' Choice Award recognises the product that has made the most difference to Life Sciences research as nominated by scientists
Cambridge UK; April 23, 2018. TwistDx Ltd, developing its Recombinase Polymerase Amplification (RPA) technology as a versatile alternative to PCR, announces that it has won the "Best New Life Sciences Product of the Year" award for its TwistAmp® Liquid kits, which deliver DNA amplification in a flexible liquid format. Winners of the Scientists' Choice Awards – organised by SelectScience, the online scientific communications publication – are voted for by members of the international scientific and research community.
The awards process is based on practising laboratory scientists, working in drug discovery and development, nominating a product, instrument or consumable that made the most difference to their laboratory in 2017. The ten innovations which received the most nominations were put to a vote. In winning the award, TwistAmp® Liquid was frequently recognised by researchers for its impact in high throughput laboratories, and by researchers developing custom assays.
Tony Hill, Commercial Director at TwistDx said: "We are deeply honored to accept this award for the Best Life Sciences Product of the Year, as voted for in the SelectScience awards. We would like to thank all of the scientists who nominated and voted for TwistAmp® Liquid kits and are delighted to hear that we have had such an impact on the community. We look forward to further building our relations and partnerships with researchers as we continue to develop RPA as a truly innovative and versatile PCR replacement."
TwistAmp® Liquid provides DNA amplification in a flexible liquid format. It contains all the enzymes and reagents necessary for the amplification of DNA, the user need only supply primers, dNTPs and template. As with PCR, TwistAmp® Liquid enables end-users to create master mixes for their own applications. Furthermore, end-users can modulate the ratios of components in the reaction system, offering greater flexibility in RPA assay development. TwistAmp® Liquid Basic, in particular, is perfect for endpoint gel electrophoresis DNA detection, down-stream applications (e.g. sub-cloning), and facilitating use of different RPA reaction volumes, or variation of component ratios.